If there is one herb everyone seems to know about for liver health, it is milk thistle. Not only is milk thistle supportive of liver health (1, 2) and detoxification (3) but it also…
That is a lot for one humble thistle!
Much of the research cited here was done on milk thistle extracts, including silymarin and silibin. The potency of these extracts varied between studies. However, whole ground milk thistle has been historically used for many of the indications listed above with success by traditional herbalists and naturopaths.
The whole seeds may even contain valuable constituents that are absent in standardized extracts and not yet known about or studied as thoroughly. The whole seeds of milk thistle usually have a 4-6% silymarin concentration (12, 13).
How to Use Milk Thistle to Detox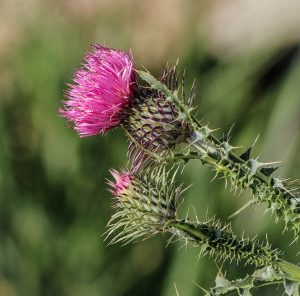 Eric Yarnll, ND, recommends that 12-15g of ground milk thistle seed be used daily as a liver protectant or cleanser. I love the idea of using the whole herb rather than capsules unless a specific condition is being treated. This connects us more to the plant as medicine and makes it less likely to overdose on one particular supplement.
Although many parts of the milk thistle plant can be used therapeutically and in your diet, the seeds are probably the easiest to come by. In addition, WebMD has a fairly easy-to-understand list of side effects those who should avoid using milk thistle because of contraindications. 
Here are a few ideas for including milk thistle in your day-to-day life:
Use a coffee grinder to grind the whole seed into a powder and make

Milk Thistle Tea

. Use about 1 tsp per cup of tea. Add a little honey and lemon if desired. You can also blend with other herbs to alter taste; some love the taste of milk thistle and others do not.

Add ground milk thistle seeds to smoothies.
Add ground milk thistle seeds to soaked overnight oatmeal or paleo porridge.
Toast milk thistle seeds in a dry skillet, rough grind, and sprinkle on salads.
Or try Detox Milk Thistle Bread! This recipe was invented by my colleague, Ellie Kempton, RD, who is a master at making healing functional foods an easy and delicious part of our everyday lives. She is the owner of Simply Nourished. I highly recommend her if you are looking for one-on-one, personalized nutrition counseling; female runners and stubborn weight loss are her areas of expertise.

Fall Detox: Milk Thistle
Author:
Ellie Kempton, RD - Simply Nourished
Prep time:
Cook time:
Total time:
Reprinted with Permission. Copyright © 2014. Simply Nourished. All rights reserved. www.simplynourishednutrition.com
Ingredients
1⁄4 cup milk thistle seeds
1⁄4 cup burdock root
1⁄2 cup flax seeds
1⁄4 cup arrowroot powder
2 TBSP coconut flour
11⁄2 tsp baking soda
1⁄2 tsp sea salt
8 egg whites, whipped
1⁄2 cup applesauce, unsweetened and organic
1 TBSP apple cider vinegar
Instructions
Grind the dried herbs and flax seed into soft flour in coffee grinder or a Nutribullet.
Whisk together dry ingredients.
Add the egg whites and applesauce.
Combine well - no lumps!
Whisk in the apple cider vinegar.
Let batter sit for 5 minutes.
Pour into a greased or parchment paper-lined loaf pan.
Bake at 350° for 30-35 min (or until desired texture is reached).
Slice, enjoy, and freeze once cooled.
Optimally, eat one slice/day with coconut butter or grass-fed butter to enjoy therapeutic cleansing effects.
What About You?
Do you use milk thistle or another herb regularly as a part of your detox routine? I would love to hear what you have to say in our comment section. Please inspire each other!
As a registered Naturopathic Doctor in the state of Colorado, I specialize in addressing the underlying issues related to thyroid, autoimmunity, digestion, chronic congestion, and adult acne. If you're interested in working with me, schedule a free "Is this a good fit?" office or phone consult so that you can find out how I can help you.
---