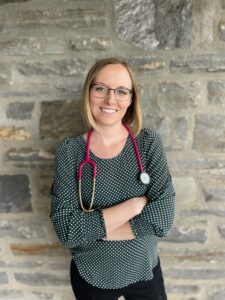 Dr. Kristina Schieferecke is a registered Naturopathic Doctor in Colorado who received her medical training from Southwest College of Naturopathic Medicine (SCNM) in Tempe, AZ and her bachelor's degree in Integrative Health Care with an emphasis in Pre-Medicine from Metropolitan State University of Denver. After medical school Dr. Kristina Schieferecke studied under Dr. Heather Wright, ND, in the pursuit to obtain additional training in Oncology but soon discovered her true passion was working with women, balancing hormones, and healing the gastrointestinal tract.
Dr. Kristina Schieferecke's focus is to take you from surviving to thriving by understanding and treating the root cause. She is passionate about meeting patients where they are at on their healing journey and provide them with tools to find long-term relief of symptoms. She does this by combining different modalities including herbal medicine, biotherapeutic drainage, nutrition, lifestyle medicine, and Traditional Chinese Medicine.
When she isn't in the office, Dr. Schieferecke enjoys spending time with her son, husband, and two dogs (Kona and Milo). She also enjoys exploring Colorado, skiing, hiking, yoga, gardening, and cooking.