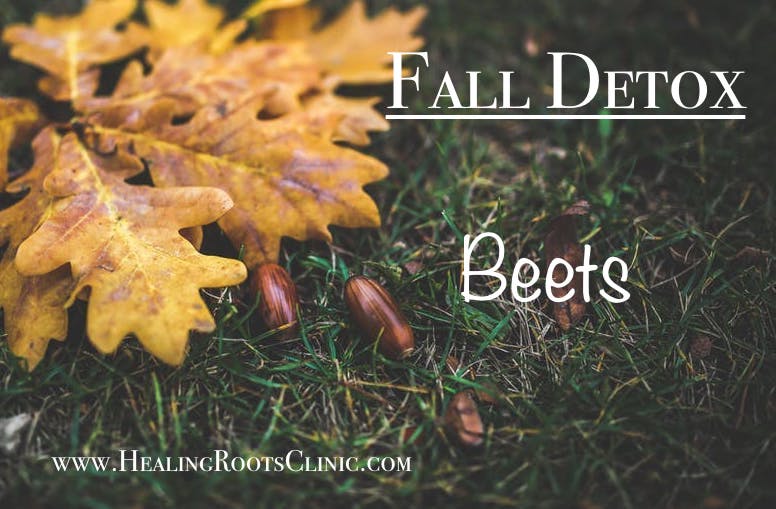 Seasonal transitions often inspire me to nourish myself. Especially the transitions from winter to spring and summer to fall. One way I like to nourish myself is by making sure that my body is optimally supported in detox and my environment is clean.
Spring cleaning of our homes and our bodies is probably a familiar and intuitive idea to you. I find that fall is also a fantastic time for this ritual. By supporting your body in detox during this time of the year, you are very likely to go into the holidays with more energy for celebrating and you'll be less susceptible to colds and flus.
Detox doesn't need to be an extreme process. This series, along with my previous Spring Detox series, are aimed at introducing simple, gentle ways to support your body's day-to-day ability to detox as well as helping you to create a cleaner environment.
Wondering you if you actually need detox support? You can find my answer to this common question here.
Supporting your body in basic detox doesn't have to involve fancy or expensive supplements. In fact, foods that naturally support your body's detoxification systems and can be easily incorporated into our everyday diets are my favorite. Beets are a classic, stellar example. Both the roots and greens are full of detox supporting nutrients.
Detox with Beets
Beets are traditionally thought of as supportive of the liver. They are rich in betalains, the substance that gives both red and yellow beets their pigment. Most of the red fruits and veggies we consume are red from anthocyanins. Both anthocyanins and betalains are antioxidants but betalains are much more rare in our diet. In addition to betalains, betain and nitrates are two key substances found in beets.
Here are a few things the betalains, betains, and ntirates found in beets have been found to do:
Increase detoxifying and antioxidant enzymes in the liver (

1

) 

Protect cells, proteins, and enzymes from environmental stress

Promote methylation in the liver and kidney (

2

) 

Promotes dilation of blood vessels (

3

)

Block the proliferation of tumor cells (

4

) 
Here is what these actions can translate into:
In addition to these findings from formal research, I like the liver loving nutrients in beets as support for many other conditions potentially associated with a sluggish or overburdened liver, including acne, PMS, PCOS, elevated cholesterol, chemical sensitivity, and hypoglycemia (low blood sugar).
Eating Beets
Below are 3 of my favorite recipes that include beets. Some of the nutrients in beets degrade rather quickly when cooked; try to limit roasting time to 45 minutes and boiling times to 15 minutes. However, don't feel like you need to go completely raw or always limit the cooking time. Cooked beets are better at binding bile acids and removing them from the body.
Shredded Beet Salad
1 large beet, shredded
1-2 tbsp fresh lemon juice
1-2 tbsp olive oil
Sea salt to taste
Shred beet and toss with remaining ingredients. Let marinate, covered, for at least 20 minutes.
Beet Juice
2 Servings
3 large beets, washed but not peeled
1 Honeycrisp apple
1 lemon
2 inch piece of fresh ginger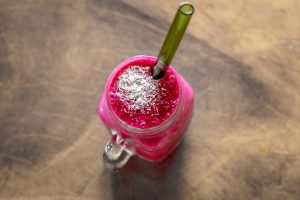 You can use a juicer or a high-power blender for this. If using a blender, add all ingredients (chopped) to blender and cover with filtered water. Blend on high speed until very well puréed. Strain juice through a nut milk bag. When the weather is starting to cool off, I like to have this close to room temp with no ice or chilling.
Detox Soup with Beets
4-6 servings
A few notes on ingredients:
Smashing garlic and letting it rest enhances its antimicrobial and cardiovascular benefits.
Miso, although soy, is quite healthy for those who do not have a soy sensitivity. It is a fermented food with probiotic benefits and does not have the antithyroid action that tofu and soy milk have.
Turmeric is anti-inflammatory and contributes to better gut bacteria.
Black pepper will enhance the absorption of turmeric.
Zucchini, green beans, celery, and parsley are all very alkalinizing due to their high potassium content.
Detox Soup with Beets
Author:
Dr. Erika Enos, ND
Ingredients
2 cups chopped zucchini, medium small chop
2 stalks celery, chopped
1 cup greens beans, trimmed
1 medium to large beet, medium small chop
Greens from beet (but not stems)
1 clove garlic, smashed and allowed to rest for 10-15 minutes
½ - 1 tsp turmeric powder
1 tbsp fresh grated ginger
Filtered water
1 handful of parsley
1-2 tbsp coconut oil
Miso paste (if you tolerate fermented soy) or sea salt to taste
Black pepper, optional
Instructions
Place zucchini, celery, green beans, beets, beet greens, turmeric, and ginger in a saucepan with just enough water to reach the top of the vegetables. Bring to a boil, cover, and reduce to simmer. Simmer about 10 minutes or until vegetables are very soft. Let cool slightly then blend all contents of soup (liquid and veggies) with parsley and coconut oil.
Miso should be added to each bowl separately. Miso is a fermented food, meaning it is a live food filled with probiotics. If you add it to the larger batch and end up reheating later, you will lose the probiotic benefits. I recommend adding a few tablespoons of soup to your bowl and using a fork to blend in the miso before filling the bowl with more soup. Miso can be difficult to blend and I have ended up with a large clump at the bottom of my bowl more than once when I didn't take the time to blend a small amount first.
What About You?
Do you like eating beets? Do you have any kitchen tips like wearing gloves to prevent staining your fingers? I would love to hear what you have to say in our comment section. Please inspire each other!
As a registered Naturopathic Doctor in the state of Colorado, I specialize in addressing the underlying issues related to thyroid, autoimmunity, digestion, chronic congestion, and adult acne. If you're interested in working with me, schedule a free "Is this a good fit?" office or phone consult so that you can find out how I can help you.
---