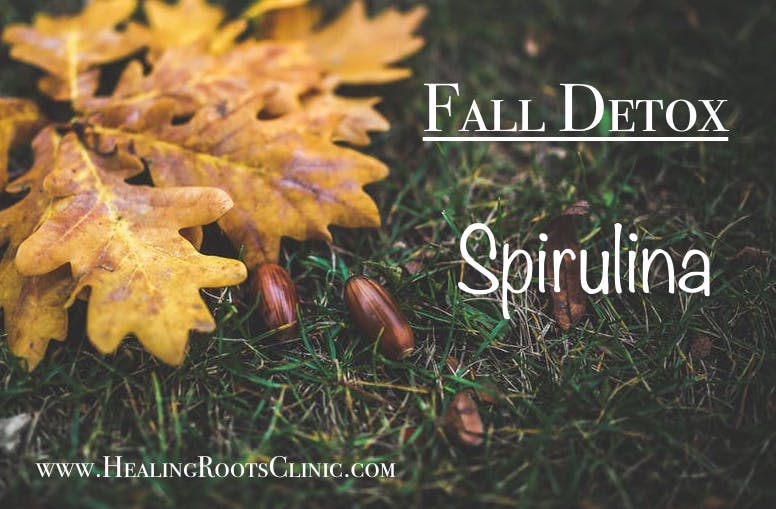 Spirulina
Chlorophyll is found in green plants and algae. It is what makes them green and allows them to capture sunlight to make energy for the plant. Structurally, it is very similar to the heme in hemoglobin. Hemoglobin is a protein that carries oxygen on your red blood cells. The only structural difference between hemoglobin and chlorophyll is that the former contains iron and the latter contains magnesium at its center.
In the Spring Detox series, I talk about Chlorella, a green micro-algae that is rich in chlorophyll. In this Fall Detox series, I want to talk about Spirulina, a blue-green micro-algae without a nucleus that also contains chlorophyll. Chlorophyll is obviously important for plants, but what can it do for your health? There's a lot!
7 Benefits of Using Spirulina
From improving gut health to boosting the immune system to reducing allergy symptoms, Spirulina is a great supplement for almost everyone to use. However, it's contraindicated for those with PKU because the amino acid phenylalanine will reach levels that are too high.
Here are some of my favorites about what the research shows that Spirulina can do:  
In addition, research also shows that Spirulina helps with:
Lowering cholesterol. Spirulina dosed at one gram/day for 12 weeks to Greek men and women with high cholesterol showed that participants saw a reduction in triglycerides, LDL, and total cholesterol. Many other studies support these findings and some suggest that spirulina additionally increases HDL ("good" cholesterol). (3, 14, 15)
Detoxifying carcinogens and poisons. Spirulina promotes Phase II detoxification in the liver, the process that helps the body to deal with carcinogens. Benefits aren't limited to the liver because kidneys' and lungs' capabilities also improved with spirulina supplementation. Additionally, spirulina improved the function of several antioxidant systems in the body. The authors of an animal study concluded that spirulina has potential benefits in cancer prevention. Other studies have found that spirulina can help humans recover after being poisoned with arsenic and animals who have been exposed to cyanide. (16, 17, 18) 
Preventing cancer (antioxidant) and being anti-inflammatory.

Many of the vitamins and proteins in spirulina have antioxidant and anti-inflammatory properties. C-phycocyanin, one of the proteins, has been shown to be a COX-2 inhibitor that decreases inflammation, for example, in conditions such as arthritis.

(19, 20, 21, 22)
Supplementing with Spirulina
For a Spirulina powder that you can add to smoothies, I like Hawaiian Spirulina by Nutrex Hawaii. And for Spirulina capsules that you can swallow, I like the ones from Mountain Rose Herbs.
What About You?
Have you tried spirulina before? Are you going to start now? I would love to hear what you have to say in our comment section. Please inspire each other!
As a registered Naturopathic Doctor in the state of Colorado, I specialize in addressing the underlying issues related to thyroid, autoimmunity, digestion, chronic congestion, and adult acne. If you're interested in working with me, schedule a free "Is this a good fit?" office or phone consult so that you can find out how I can help you.
(Amazon Affiliate links are located in this post.)
---